Candy Match-3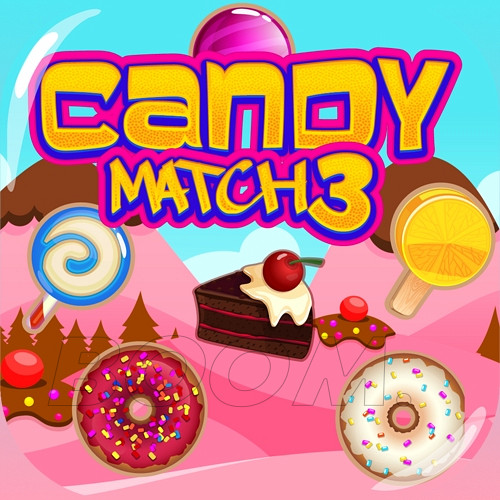 LAUNCH GAME
Candy Match-3 - The Treats are served!
Candy Match-3 is a simple matching game. Very simple but gorgeous to play with and is beautiful to watch. Who does not want to eat candies, doughnuts, chocolates, cockles, and cakes? This fantastic game is made up using these tasty foods to match.
The gameplay is simple. You have to match the identical objects one after one within the given time. The time is short, so you must match them up quickly. The rule is that one identical object, a fruit, a cake, a doughnut, or a cookie, must be repeated three or more times in a row or a column. Measure your moves. There are many options to match. But wisely choose and think about which move will be much more effective for you.
For example, one match in a ribbon will increase your time by a few seconds. So, if you continue matching up the objects fast and efficiently, the time will increase, and you will get a high score. There are several levels in this game. Each level has a higher degree of complexity and toughness. You have to move fast but think about your moves also.
Don't overthink or move randomly.
Just keep your eyes open. Find the pattern. Find the similarity. See if they can be organized three or more in a row or column, and then move your device to match. The gameplay is beautiful. The illustrations of the food items are so realistic that if you play the game for some time, you can become hungry for them. So, Be aware! It is addictive. Besides, it is a good practice in leisure time. Are you feeling stressed and exhausted?
You may try this one on your browser. The time you will spend in this game will make you productive again. And give you relief too. Everyone loves fun games online about food and food items. Especially if you are a foodie, then you must play this one. The graphics are great. The music behind the game is also chilling and sweet. The foods are also lovely. What isn't sweet about this game anyway?
Cheerio! The game is easy to play. Simple controls by touchscreen and mouse. Playable on both mobile and PC platforms. Do not forget to keep track of your time, and don't forget to match up fast.